Gastroenterology and Internal Medicine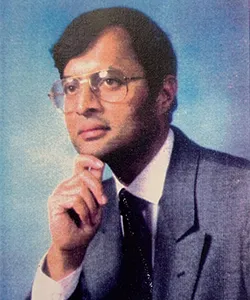 Krishnamurthy Shivshanker, MD
Gastroenterologist In Houston, TX
Houston Digestive Diseases Consultants
Dr. Shivshanker is board certified in both Internal Medicine adn Gastroenterology. He has been in private practice in the Memorial Care Systems since 1981. He has served in numerous committees and as Chief of Staff at Northwest Memorial Hospital. The JCAHO "Commendation" award was given to the hospital under his guidance. A first in the system.
Dr. Shivshanker was promoted to Associate Clinical Professor in Baylor College of Medicine in 1995. At the same time, he is also involved in charitable organizations in Houston (i.e. Food Bank, Indo-American Charities, various schools, Memorial Foundation, etc.)
As a specialist, his interest is in therapeutic interventional endoscopy, especially in the pancreatico- biliary system. As a concerned physician, he believes in encouraging patients to make informed decisions and participate in their care. "The only way to face the uncertainty in medicine is to take steps to mold the future".
Employment
Houston Digestive Diseases Consultants
7737 Southwest Freeway, Suite 840
Houston, Texas 77074
Phone #: 713-777-2555
06/1984 to Present
Education
Medical School
Armed Forces Medical School, Poona, India
09/1972 - 06/1976
Internship - Internal Medicine
Mount Carmel Mercy Hospital, Detroit, MI
09/1976 - 06/1977
Residency - Internal Medicine
Mount Carmel Mercy Hospital, Detroit, MI
09/1977 - 06/1979
Fellowship - Gastroenterology
University of Texas Medical School, Houston, TX
09/1979 - 06/1981
Chief Medical Resident
Baylor College of Medicine
1990 to 1991
Licenses
Medical License
#F3611
Issued: 02/28/2017
Expires: 02/28/2021
Board Certified - Internal Medicine
#69060
Issued: 09/12/1979
Expires: None
Board Certified - Gastroenterology
---
Issued: 11/10/1981
---